Changelogs > SpaceVim release v0.7.0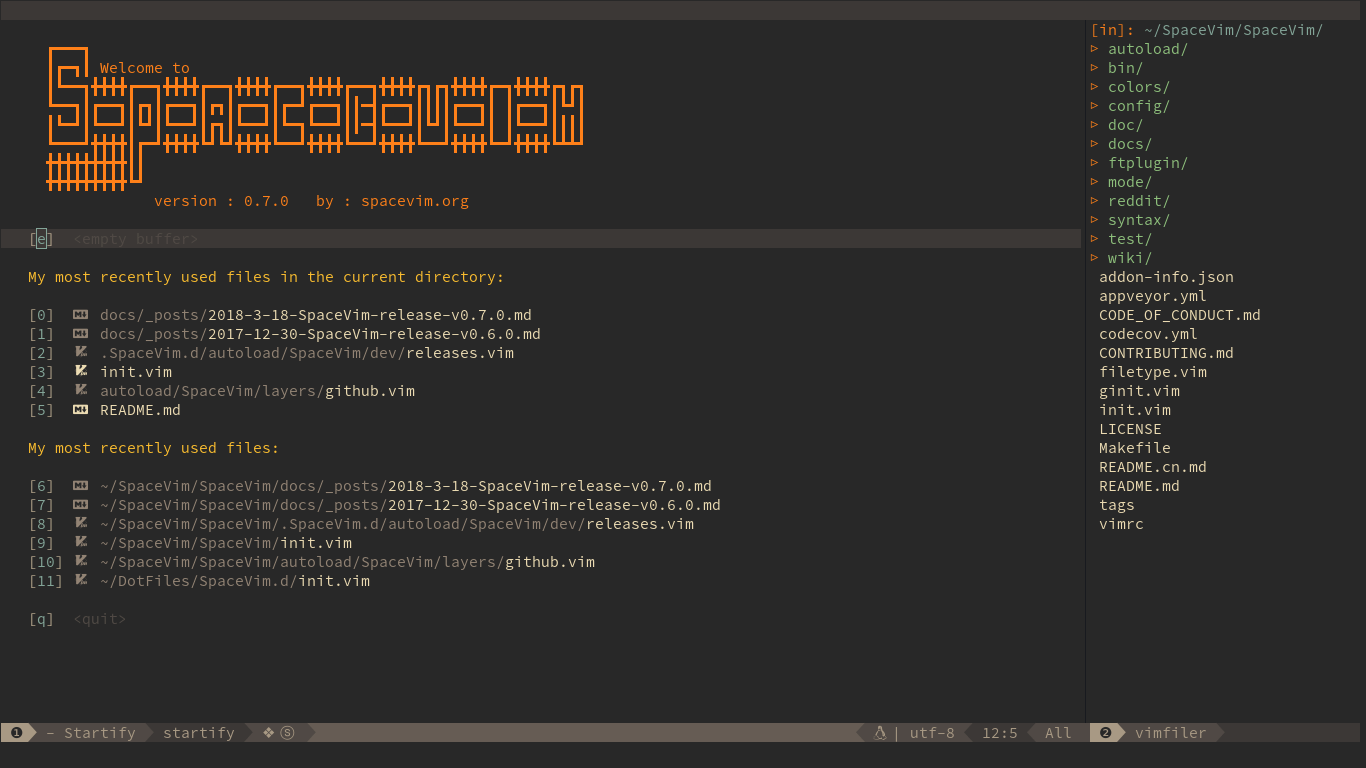 The last release is 3 mouths ago, so we want to bring you up-to-date in the SpaceVim world.
Breaking changes
Add clever f #1460 Disable [Unite] and [Denite] custom leader, use clever-f instead.
Disable all language layers by default, reduced the number of plugins, by default it is 51 only.
Disable git, VersionControl and all fuzzy finder layers by default.
Remove most key bindings begin with <Leader>, the <Leader> should be customized by users themselves.
Improve tools layer #1507. And disable it by default.
New features
Highlight symbol mode #1394
SpaceVim supports highlighting of the current symbol on demand and adds a transient state to easily navigate and rename this symbol.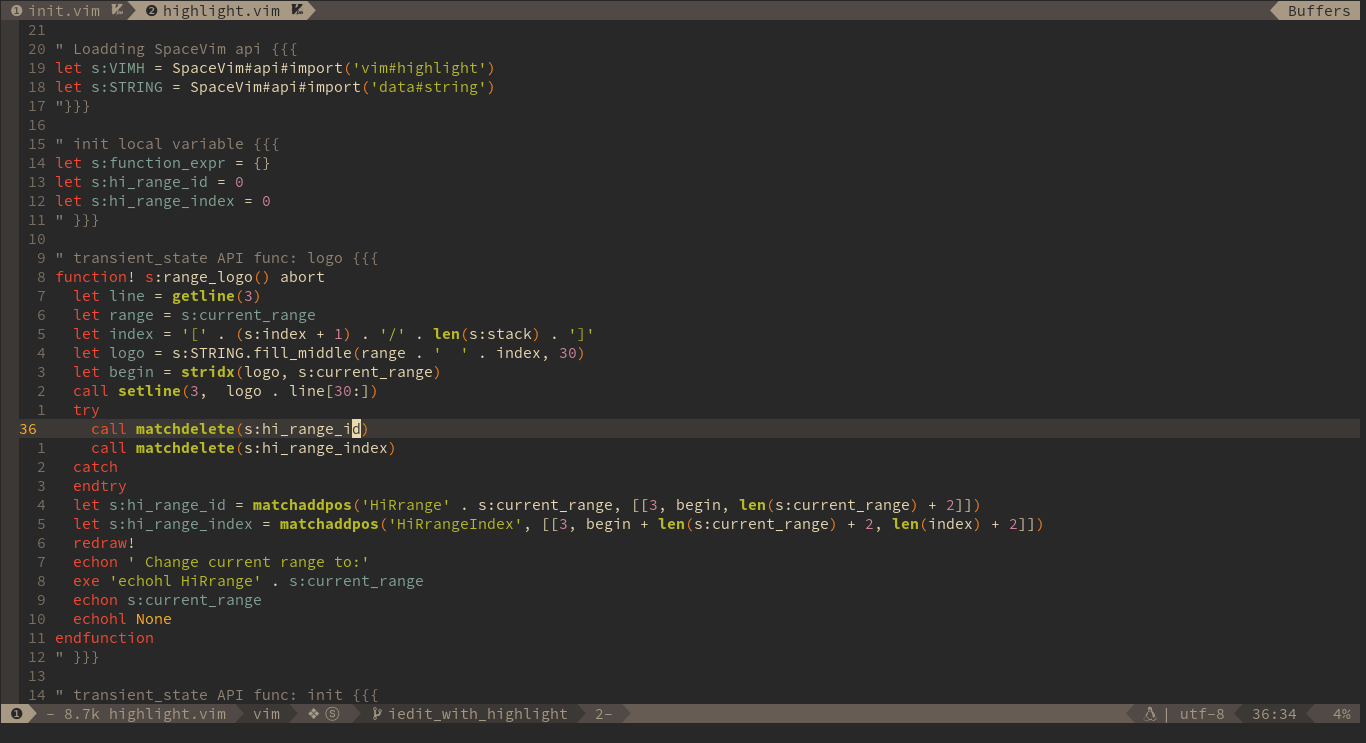 SpaceVim uses powerful iedit mode to quick edit multiple occurrences of a symbol or selection.
Two new modes: iedit-Normal/iedit-Insert
The default color for iedit is red/green which is based on the current colorscheme.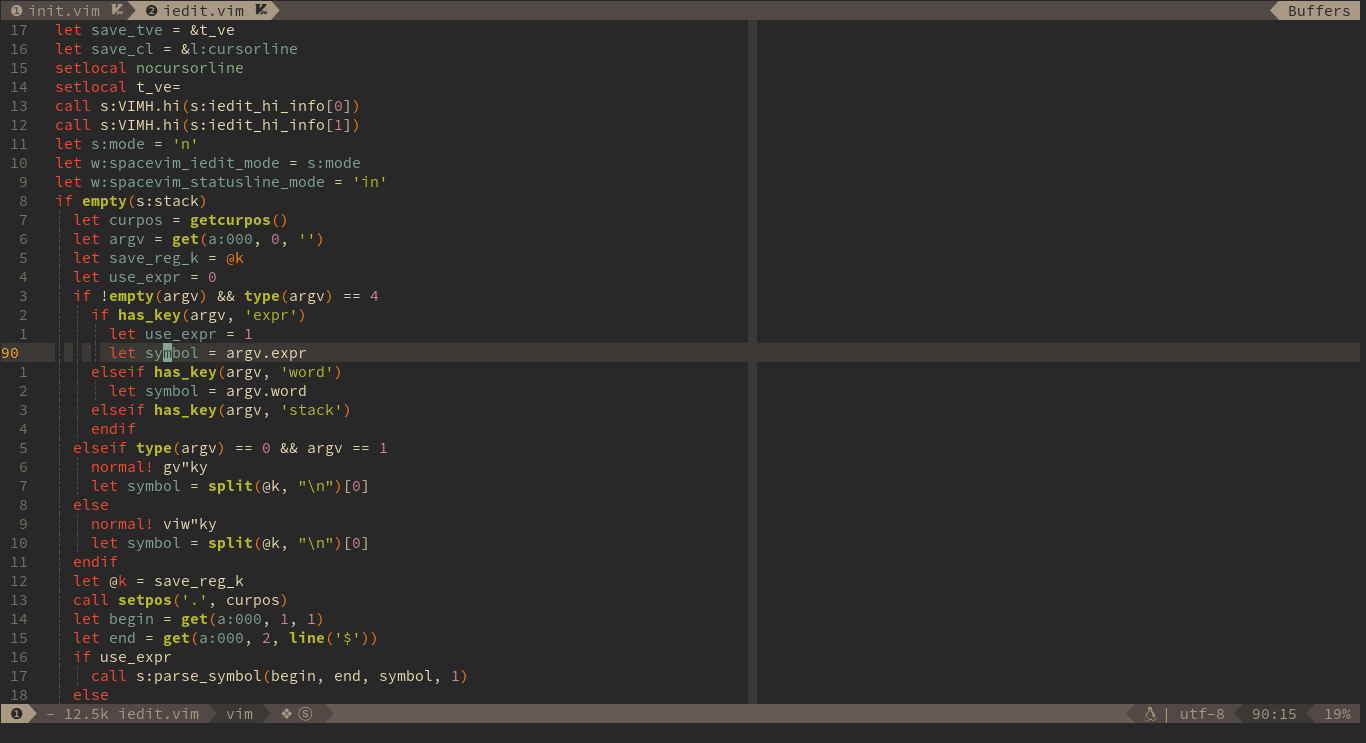 New layers
Enhancements
Add icon to welcome page(startify) #1389
Add help description for windows key bindings. #1244
Add help description for unite key bindings #1248
Add help description for other key bindings #1241
Add prompt for quit buffer. #1359
Add visual selection support #1291
Add lsp support for dart #1222
Add a new plugin into javascript layer #1270
Add preview func #1425
Add vim-pydocstring #1299
Add option for config filetype icon #1289
Add SpaceVim theme #1255
Add version api #1215
Add new interesting banners #1208
Change into more frequented used shortcuts #1230
Update icons #1240
Improve if_python check in SpaceVim #1236
HOTFIX: Fix ambiguous description in killing buffer #1226
Improve checker layer #1223
Update version api #1219
Improve flygrep #1426
Disable cursor error info #1424
Improve Ocaml layer #1387
Improve github layer #1377
Improve ocmal/c/unite/denite/ctrlp layer #1369
Revert "Fix language client config" #1282
Option to use local eslint #1257
Use compatible api for execute() #1353
Update Core #1457
Improve core config #1455
Remove default layer #1454
Default layers #1452
Better default #1438
Improve lint status in statusline #1416
Improve javascript layer #1415
update file head #1407
Supporting eex in the elixir layer #1404
Map [SPC]is to Unite ultisnips while using Ultisnips engine #1399
doc fix #1356
Use nested autocmd for quite vimfiler #1342
Replace mode for flygrep #1340
Improve cmd #1339
Update install script for chinese users #1338
wget isn't installed on all systems by default (like mine). Use curl … #1335
Filter #1325
tools:add VimCalc plugin #1316
Hotfix in windows 7 #1315
Improve searching tools #1314
Reformart as in install.cmd [#1310](https://github.com/SpaceVim/SpaceVim/pull/1310)
Colors #1308
Plugin manager #1307
Improve install.cmd #1297
New Plugin UI #1294
close terminal buffer just like a regular buffer #1429
Bug fixs
Doc && Wiki
Blog